North Hennepin Composite Squadron
Change of Command, August 22nd 2000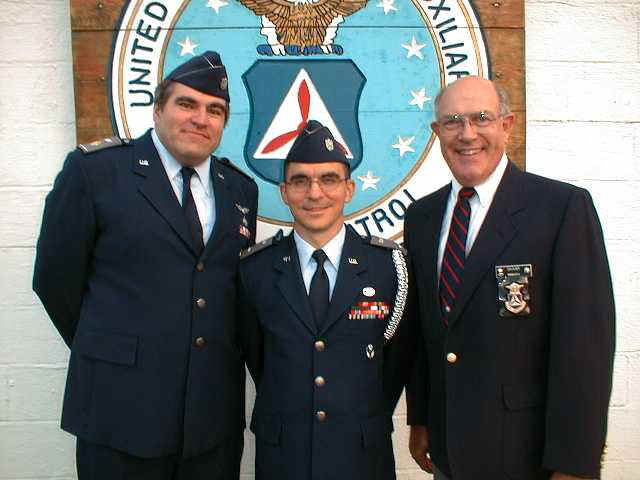 Left to Right, Major Tom Kettell, Group 3 Commander, 1st Lt Marcel Derosier, North Hennepin Comp Squadron Commander, Lt Col David Skaar, Mn Wing Vice Commander
On Tuesday August 22nd MN Wing Vice Commander Lt Col David Skarr and Major Tom Kettell, The Group 3 Commander presided over the Change of Command ceremony for North Hennepin Squadron at Crystal Airport.
Capt John Smart, the outgoing commander was recognized for his hard work and dedication to the squadron. He was presented with a plaque by the squadron and the Command Service Ribbon by Colonel Skaar.
Major Kettell then accepted the Squadron Colors from the Retiring Commander, Captain Smart and presented them to 2nd Lt Marcel Derosier the Incoming Commander.
After the dignitaries made some brief remarks about Captain Smart's service and the future of the squadron 2nd Lt Derosier was promoted to the grade of 1st Lt by Major Kettell.
Before the program closed Major Kettel took a moment to recognize Lt Col Baney Uhlig for his outstanding efforts in organizing and leading members of all of the Group 3 Squadrons as they supported the 2000 Twin Cities Military Expo.
Colonel Uhlig recived a note form the organizers thanking him for his efforts and commenting on the professionalism of the Group 3 Members as they performed their duties over the long weekend.
After the recognition the ceremony was concluded and members were invited to a reception to honor the new Squadron Commander and welcome him to his new command.
(C) 2000 Minnesota Wing, Civil Air Patrol, US Air Force Auxiliary